Hi, my name is Daniella Cranfield and I live in Jersey in the Channel Islands. I am married to Matt and have 2 daughters. I also have a black domestic short-haired cat called Pickles and a grey and white Siberian Husky called Luna. Huskies and Cats can get along. We are an animal-loving family.
Dog Walking
As well as being a wife and a mother, I run my own dog walking business called Paws R Pals. I don't just walk dogs, I also offer puppy pop-ins and cat services. I would be open to helping out with other small animals.
I think that it's important to really enjoy what you do, especially with animals as they can pick up on your mood and the type of person you are. They know if you want to be in their company. During the school holidays my daughters like to come to work with me, they really enjoy being with the animals.
I offer group walks for dogs, and it's important to get the right mix on a group walk. The dogs should be comfortable with each other, after all, it's their walk and you want them all to enjoy it.
My walks are different every day, it's very much dependent on what the dogs want to do. Sometimes we can cover large distances because they want to run and explore. On other days we hardly cover any distance as they are happily sniffing around and playing.
Enrichment is my motto. The walks should be enriching for the dogs, something that they enjoy, not just physical exertion. I like to allow them to sniff and explore to their heart's content if that's what they are in the mood to do.
Positive reinforcement is also a priority for me. I want my group to trust me and enjoy being with me.
With the puppy pop-ins, it's important to know the puppy and provide age-related exercise. 5 – 10mins for every month old that they are. I don't believe in over-exercising a puppy as this can cause joint problems later on in their life.
Looking After Cats
Cats have slightly different needs. When I visit them at home, I allow them to come to me in their own time. Sitting quietly and calmly allowing them to sniff me. I usually visit a few times when the owner is still present to become familiar with them. With cats, it's totally dependent on what the owner wants. Some cats just need their food, water, and litter trays dealt with. Other cats also like to be played with or petted. I'm happy to do both!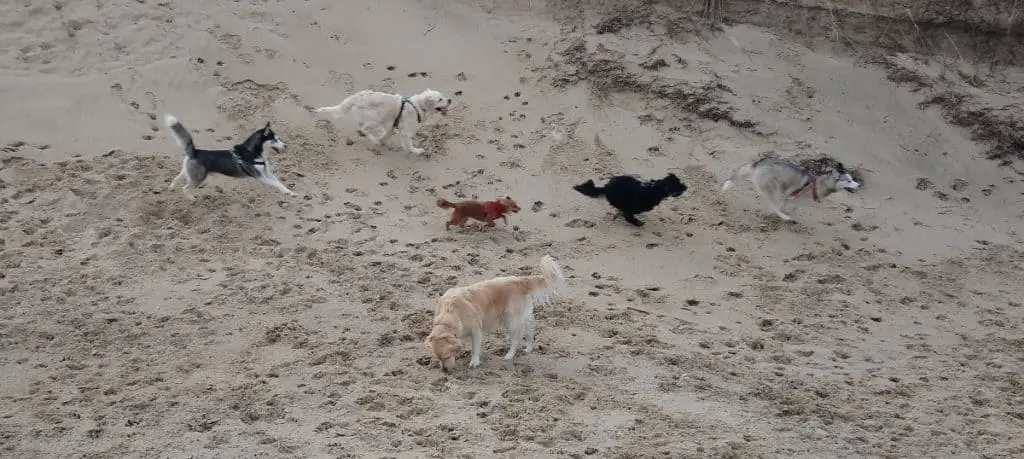 Daniella Cranfield and Paws R Pals Facebook Page
I also have a Facebook page where you can see photos of our walks. I like my clients to be able to see what their pets have been up to during the day because I know that I would like to see what my pets were doing if I were in their position.